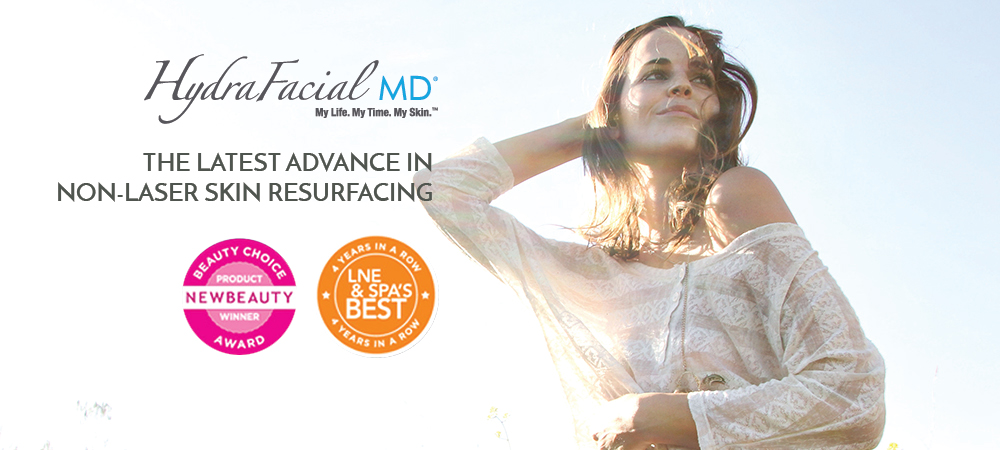 HydraFacial MD: An Award-Winning Anti-Aging Skincare Treatment
With HydraFacial MD® combines the benefits of hydradermabrasion, a chemical peel, and automated, painless extractions into one non-invasive, results-oriented skin care treatment. HydraFacial delivers anti-aging antioxidants, hyaluronic acid and peptides to the skin, generating real results – without downtime or irritation – in one, quick treatment.

Experience the benefits of HydraFacial MD®

No downtime; no discomfort

Can be done in only 30-minutes

Immediate, visible results

Effective for every skin type

Addresses specific skin concerns

A powerful, non-invasive treatment
HydraFacial Skin Care Treatments
HydraFacial skin resurfacing treatments range from 30- to 90-minutes and address a variety of skin concerns, including uneven skin tone, aging skin, acne, sun damage and more.
Signature HydraFacial
30-minutes | $175
Ideal for even sensitive skin, this treatment will deeply exfoliate, cleanse and extract impurities then; hydrating serums will be infused deep into the skin's dermis. Your pores will be smaller and tighter and your skin will be soft and supple after just one treatment.
Deluxe HydraFacial
60-minutes | Prices vary
The Deluxe HydraFacial is an invigorating skin care treatment that customizes the essentials of the Signature HydraFacial with a booster to better address the unique condition of your skin. The Deluxe HydraFacial concludes with LED light therapy, which further reduces the visible signs of aging.
Available HydraFacial boosters include:
Restorative HydraFacial | $260
Improves the appearance of skin tone, texture and elasticity through the use of CTGF™, which uses naturally-derived growth factors that contribute to youthful skin.
Radiance HydraFacial | $250
This treatment features a component called Britenol™, which helps minimize the appearance of dark spots.
Age-Refinement HydraFacial | $250
Boost your Deluxe HydraFacial with DermaBuilder™, which pushes growth hormone cells deep inside the skin's dermis to dramatically improve the appearance of fine lines and wrinkles while also enhancing the tone, texture and firmness of the skin.
Clarifying HydraFacial | $225
With extended, automated and painless extractions – no pinching! – this clarifying skin care treatment is finished with blue LED light therapy. Blue light works by killing acne-causing bacteria. This treatment includes ultra-calming products, deep extraction and lymphatic drainage massage to rebalance, disinfect and normalize your skin.
Platinum HydraFacial
90-minutes | $325
Revel in the ultimate HydraFacial experience. Detoxify with a lymphatic drainage process before enjoying the essentials of a Signature HydraFacial treatment. Choose a booster to customize your HydraFacial to the unique condition of your skin. This service concludes with LED light therapy to reduce visible signs of aging, leaving you with radiant, youthful skin.
Lymphatic Drainage
30-minutes | $50
LED Light Therapy
25-minutes | $50
NASA and the Navy Seals have used LED light therapy for muscle regeneration and to speed up the healing of wounds. Now this technology is used as a painless, effective anti-aging treatment. LED (light emitting diode) light therapy combines age-defying technology to attain a clear complexion. LED is great for reducing the appearance of fine lines and wrinkles, improving uneven skin tone, reducing pores size, and brightening the skin. Not to be confused with laser, at the core of this treatment is the use of red light (regenerative and healing effects) and/or blue light (proven to improve acne). For best results this treatment is recommended in a series of six. One per week.
REQUEST YOUR HYDRAFACIAL APPOINTMENT TODAY!
Skin Innovations is proud to be one of few spas in the Greater Boston Area to offer HydraFacial MD® skin care treatments. If you would like to experience this award-winning spa service, please complete the form below and we will contact you to schedule your appointment.